Custom Mixing & Packaging of Bags & Supersacks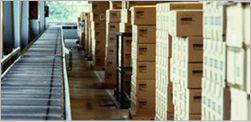 J.T. Snyder Industries, Inc. was contracted by manufacturing customer to provide custom mixing and packaging of bags and supersacks for international delivery. This project which was completed in three parts, in the first the raw material was mixed in our paddle blender prior to packaging, the following two parts involved packaging. The first packaging requirement was to fill 2″x 25″x 3″ paper bags with 50 pounds of material, weight was monitored while filling, and then the bags where re-weighed before being heat sealed. Bags had to be with 0.25 pounds before being palletized and shrink wrapped. We produce 16 of these 2330 pound, 48″ x 48″ pallets per day for this customer. In addition to the bag order, this customer also has requirements for the filling of 2000 supersack, all of which we ship internationally.
For more information on all of our custom blending and packaging capabilities, see the table below or contact us directly.
Highlights of this Custom Packaged Bags & Supersacks
Product Description

This product is used in construction to ground metal rods.
Custom Packaging Capabilities Applied/Processes

Primary:
Packaging, all labeled with run and batch numbers

Heat Seal Bags
Stack 90 bags on pallets with top and bottom trays
Stretch wrap with or without corner protectors
Double stack and band together

Secondary:
Blend materials in paddle blender
Equipment Used to Manufacture Part

Paddle blender to mix the material.
Heat sealer to seal the bags.
Stretch wrap machine to wrap pallets
Overall Part Dimensions

Use 2″x25″x3″ paper bags.
42″x48″ pallets.

Finished pallet=2330 lbs.
Tightest Tolerances
Material Shipped
In process testing/inspection performed

Weigh product while filling, re-weigh before sealing.
Record Run and Batch number for each pallet going out.
Industry for Use
Volume

16 single pallets per day
Delivery Location
Standards Met

Customer's formula and weight specifications.
Product Name

Packaging of 2,000 lbs. super sacks